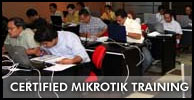 Halaman Muka
Produk
Voucher MUM
Lisensi (dgn DOM)
Lisensi (tanpa DOM)
Upgrade Lisensi
Cloud Router Switch
Interface
Switch
MikroBits Switch
RouterBoard (only)
Router Indoor
Wireless Indoor

NEW

Router Outdoor
RouterBoard 2011
RouterBoard 3011
MikroBits Aneto
MikroBits Ainos
MikroBits Celoica
MikroBits Dinara

NEW

Cloud Core Router
Wireless Indoor 800
Wireless Outdoor 800
Wireless Indoor 493
Wireless Indoor 433
Wireless Outdoor 433
Wireless Outdoor 435
Wireless Indoor 411
Wireless Outdoor 411
Wireless Outdoor 900
Wireless Outdoor 711
Groove
Metal
Embedded 2.4GHz
Embedded 5.xGHz
Indoor Antenna
RF Ellements
Outdoor Antenna
SFP Transceiver
Mikrobits Fiber Patch
NetProtector

NEW

Perlengkapan Lain
Discontinued
Rancang Sendiri
Aplikasi Bantu
Pelatihan
Manual & Dokumentasi
Download Area
Artikel
Tips & Trik
Mikrotik @ Media
Fitur & Penggunaan
Tentang Kami
Aturan & Tata Cara
Layanan Pelanggan
BGP-Peer

NEW

Kontak Kami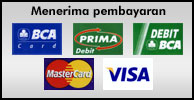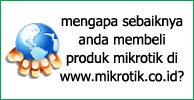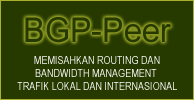 Detail Produk
XR2 Wireless Minipci 600mW BG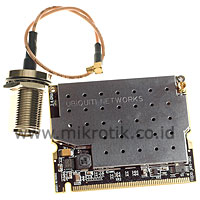 klik pada gambar untuk melihat gambar lebih besar
| | | |
| --- | --- | --- |
| Kategori | : | Interface |
| Kode | : | XR2 |
| Harga | : | Rp 1.860.000,00 |
The XtremeRange2 represents the first true carrierclass 802.11b/g-based 2.4GHz radio module specifically designed for mesh, bridging, and infrastructure applications requiring the highest levels of performance and reliability without compromise. Including MMCX - NFemale pigtail.

Spesifikasi Teknis:
Chipset: Atheros, 6th Generation, AR5414
Radio Operation: IEEE 802.11b/g, 2.4GHz
Interface: 32-bit mini-PCI Type IIIA
Operation Voltage: 3.3VDC
Antenna Ports: Single MMCX
Temperature Range: -45C to +90C (extended temp version up to +95C)
Security: WPA, WPA2, AES-CCM & TKIP Encryption, 802.1x, 64/128/152bit WEP
Data Rates: 6Mbps, 9Mbps, 12Mbps, 24Mbps, 36Mbps, 48Mbps. 54Mbps
TX Channel Width Support: 5MHz / 10MHz / 20MHz / 40MHz
RoHS Compliance: YES
Wireless Modular Approvals: FCC Part 15.247, IC RS210
Seluruh harga yang tercantum di atas belum termasuk PPN 10% dan biaya pengiriman.