Detail Produk
Solid Parabolic 5GHz 27dbi
Saat ini kami tidak memiliki persediaan barang ini.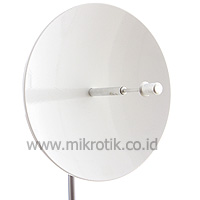 klik pada gambar untuk melihat gambar lebih besar

Directional parabolic antenna working in 5 GHz band. There is a possibility to use Direct 27-5G in horizontal polarization or vertical polarization. Antenna is made of a top quality two-layer ABS/Plexiglas (PMMA) material which enables Direct 27-5G to be used also in more difficult climatic conditions. The antenna is corrosion resistant and its lifetime is very long. The weight of Direct 27-5G is very low (up to 1,5KG).
Spesifikasi Teknis
Frequency Band: 5180-5850 MHz
Dimensions: Diameter 500 mm
Gain: 26,1 dBi
-3 dB Beamwidth: 6°
Weight: 1 500 g
Connector: N – Female
Polarization: Horizontal / Vertical
Impedance: 50 ?
Material: Aluminium + ABS
Seluruh harga yang tercantum di atas belum termasuk PPN 10% dan biaya pengiriman.