Saat ini kami tidak memiliki persediaan barang ini.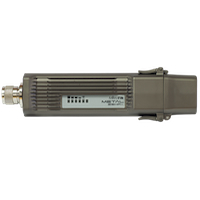 The new, completely waterproof, rugged, and super high powered RouterBOARD Metal. The serious outdoor wireless device. Fully sealed, industrial design metal case, powered by RouterBOARD and RouterOS. 1.6 WATT of output power - to reach the last mile, in any conditions.
Jika Anda akan menghubungkan Metal 2SHPn dengan antenna menggunakan kabel jumper N-Male to N-Male, mungkin Anda juga membutuhkan Connector N-Female to N-Female.
Seluruh harga yang tercantum di atas belum termasuk PPN 10% dan biaya pengiriman.
Jika Anda membutuhkan faktur pajak untuk transaksi ini, pastikanlah bahwa Anda telah menginformasikan Nama Perusahaan dan NPWP dengan benar kepada kami sebelum melakukan order.