Detail Produk
MikroBits Dinara (RoS Level 6)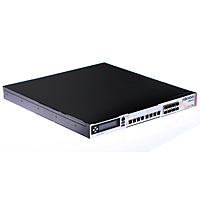 klik pada gambar untuk melihat gambar lebih besar
MikroBits Dinara dirancang untuk melakukan pengaturan bandwidth kapasitas besar, menggunakan processor Intel Quad Xeon Haswell (3GHz atau yang lebih cepat), dilengkapi 8 port ethernet gigabit dan 8 port SFP gigabit. Sudah termasuk MikroTik RouterOS level 6.
Bonus : 4 pcs GLC-T SFP (Gigabit Ethernet RJ45 SFP Transceiver)

---- Attention -------------------------------
Karena perubahan Storage Management Pada routerOS MikroTik platform x86 di versi 6.20, maka kami sarankan untuk melepas terlebih dahulu Hardisk SATA sebelum melakukan upgrade versi ke versi 6.20 dan versi-versi selanjutnya.
Hardisk SATA dapat dipasang kembali setelah proses upgrade versi selesai.
-----------------------------------------------

Spesifikasi Produk:
Processor : IntelŽ Quad XeonŽ Processor Haswell (3GHz atau yang lebih cepat)
RAM : 1 x 2048MB DDR3 Industrial Grade RAM
HDD Interface : 2x SATA, 1x CF Slots with True IDE IBM MicroDrive Support
Compact Flash : 1 GB Industrial Grade Compact Flash for RouterOS
HDD : 256GB SATA 2.5" SSD (atau lebih besar)
Ethernet : 8 x 10/100/1000Mbps Gigabit Ethernet (IntelŽ 82580)
SFP Ports : 8 x Gigabit SFP (IntelŽ 82580)
Lan by-pass : 2 groups
Expansion Slots : -
Serial port : 1 console, RJ45 type
LCDs : 1x back lit 2character x16 character LCD Display
LEDs : Power and HDD LED
Speaker : Mini PC - Speaker
Power : IEC C13 Power Cord, input power: 100VAC-250VAC 50Hz- 60Hz (International PSU)
Fan : 2x Redundant Chassis Fans,
Dimensions : 44 mm (H) x 430 mm (W) x 450 mm (D)
Operating Temperature : 0°C ~ +40°C (32°F ~ 104°F)
Storage Temperature : -20°C ~ +70°C (-4°F ~ +185°F)
Humidity : 10% ~ 90% RH, non-condensing
Power Supply : 270W ATX PSU
Operating System : MikroTik Router OS v6
Kelengkapan :
1 pcs MikroBits Dinara
1 pcs Kabel Power
1 set Rackmount Bracket
1 pcs Console Cable
Bonus :
4 pcs GLC-T SFP (Gigabit Ethernet RJ45 SFP Transceiver)
Load Test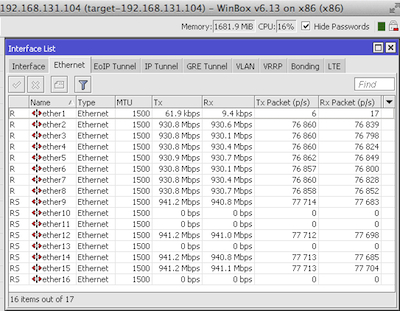 Peningkatan performa 10%
Load Test with NAT
Traffic 1 Gbps/1Gbps, 99Kpps/99Kpps, 1500 byte data frame, CPU Load: 19%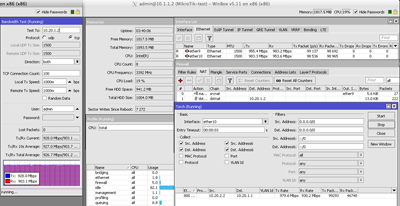 Seluruh harga yang tercantum di atas belum termasuk PPN 10% dan biaya pengiriman.