Detail Produk
Routerboard RB411R
Saat ini kami tidak memiliki persediaan barang ini.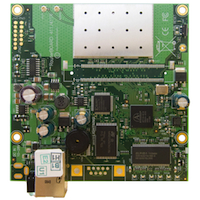 BOARD ONLY - The RB411R is a small CPE type RouterBOARD wireless router with an integrated 2.4GHz wireless card.


Produk ini berupa board only, tanpa casing, adaptor, wireless card, antenna, dan perangkat tambahan apapun. Harus dirakit terlebih dahulu sebelum digunakan.
[[RB411R]]

Seluruh harga yang tercantum di atas belum termasuk PPN 10% dan biaya pengiriman.