Detail Produk
Routerboard RB600A
Saat ini kami tidak memiliki persediaan barang ini.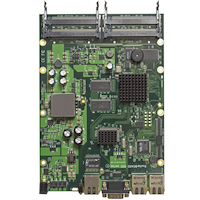 BOARD ONLY - The high performance wireless platform. It has four miniPCI slots and three gigabit ethernet ports and it is the the fastest from our wireless routers.


Produk ini berupa board only, tanpa casing, adaptor, wireless card, antenna, dan perangkat tambahan apapun. Harus dirakit terlebih dahulu sebelum digunakan. [[RB600]]

Seluruh harga yang tercantum di atas belum termasuk PPN 10% dan biaya pengiriman.