Detail Produk
Mikrotik quickMOUNT Pro LHG
Saat ini kami tidak memiliki persediaan barang ini.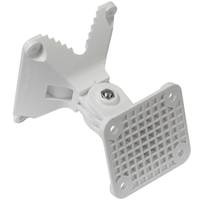 klik pada gambar untuk melihat gambar lebih besar



The quickMOUNT pro LHG is a advanced wall mount adapter special for LHG . You can mount it on the wall or use it as an adapter from large diameter pole to small size antenna mounting clip ensuring reliable fitment.

Compatible Product : RBLHG-5nD


The quickMOUNT pro LHG gives possibility to turn antenna within 140° both in horizontal and vertical plane.

With the quickMOUNT pro LHG is possible to perfectly set antenna alignment using integrated graduated scale. You can use the quickMOUNT pro LHG with any pole mountable device or Mikrotiks small mounting clip with weight less than 1.5 kg.



Seluruh harga yang tercantum di atas belum termasuk PPN 10% dan biaya pengiriman.