Detail Produk
5.2-5.8 GHz Flat Panel 23 dBi Antenna
Saat ini kami tidak memiliki persediaan barang ini.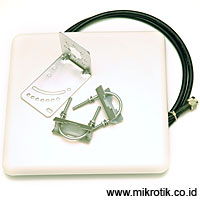 klik pada gambar untuk melihat gambar lebih besar
5.2-5.8 GHz Flat Panel 23 dBi Antenna. Termasuk 1 buah kabel jumper N-Male to N-Male 1 meter.

Electrical Specifications

Frequency 5150-5850 MHz
Gain 23 dBi
Horizontal Beam Width 11°
Vertical Beam Width 11°
Polarization Vertical or Horizontal
Impedance 50 Ohm
Max. Input Power 50 Watts
VSWR < 1.5:1 avg.
Lightning Protection DC Short
Connector Integral N-Female
Mechanical Specifications

Weight 3.27 lbs. (1.5 Kg)
Dimensions 12 x 12 x .75 inches (305 x 305 x 19 mm)
Radome Material UV-Stable Fiberglass
Operating Temperature -40° C to to 85° C
Mounting 1.25 inch (32 mm) to 2 inch (50 mm) O.D. pipe max.
Rated Wind Velocity 130mph (210km/h)
RoHS Compliant Yes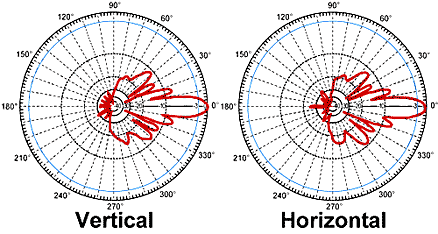 Seluruh harga yang tercantum di atas belum termasuk PPN 10% dan biaya pengiriman.