Detail Produk
Router RB1200 1U Rackmount
Saat ini kami tidak memiliki persediaan barang ini.
-- discontinued -- Routerboard 1200 dengan 10 buah gigabit ethernet port, processor PPC 1000MHz, 1 buah switch chip, dan RouterOS lisensi level 6. Solusi routerboard rackmount paling ekonomis.

(Maksimal 3 pcs per account)

Spesifikasi RB1200
Product Code
RB1200
Architecture
PPC
CPU
PPC460GT 1000MHz
Current Monitor
No
Main Storage/NAND
64MB
RAM
512MB
SFP Ports
0
LAN Ports
10
Gigabit
Yes
Switch Chip
1
MiniPCI
0
Integrated Wireless
No
MiniPCIe
0
SIM Card Slots
No
USB
No
Memory Cards
No
Power Jack
110/220V
802.3af Support
No
POE Input
No
POE Output
No
Serial Port
DB9/RS232
Voltage Monitor
Yes
Temperature Sensor
Yes
Dimentions
1U case: 44x176x442m
Operating System
RouterOS
Temperature Range
-20C .. +65C
RouterOS License
Level6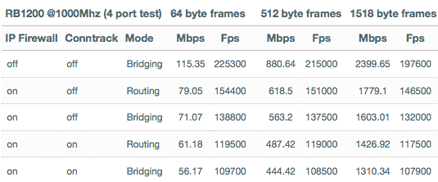 All throughput tests done with Xena Networks specialized test system and RouterOS v5, according RFC2544, with Ethernet frame sizes 64, 512, 1518 bytes. Each board is tested with specified number of Ethernet interfaces, to ensure optimal load on hardware.
Seluruh harga yang tercantum di atas belum termasuk PPN 11% dan biaya pengiriman.
Jika Anda membutuhkan faktur pajak untuk transaksi ini, pastikanlah bahwa Anda telah menginformasikan Nama Perusahaan dan NPWP dengan benar kepada kami sebelum melakukan order.