Detail Produk
GPOE-6AB
Saat ini kami tidak memiliki persediaan barang ini.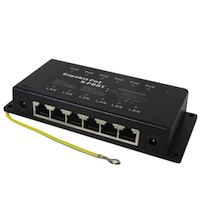 GPOE-6AB Injector / Splitter Untuk
6 perangkat dengan standart PoE
802.3at
dan
PoE+ dengan Gigabit ethernet.
Support power supply external 12v - 56v up-to 60 watt dengan pilihan PoE mode-A (1,2,3,6) dan mode B (4,5,7,8).
*Tidak termasuk DC power supply
• 6 Port Gigabit Ethernet Injector
  – 6 Shielded RJ-45 LAN
  – 6 Shielded RJ-45 LAN+POE
  – all 4 data pairs connected 
  – transformer isolated power on POE side
• Size: 6 x 1 x 2.25 inch wall mount ( 150 mm x 65mm x 26mm)
• Dual 650 ma automatic resettable fuse on each port
  – 1.3 amps in AB mode
• Same voltage to all ports power is equally shared as needed by the devices
• Use with any Ethernet switch 
  – PoE or non-PoE switches
• Standard power connector - 2.1mm x 5.5mm
  – Dual connectors
  – for one or two power supplies
  – Use two power supplies for redundancy or 802.3at mode
  - Y adapter cable to share one power supply included with 120w versions
• Ideal for IP Cameras, VOIP phone, WiFi Access Points
• Technical support from Austin
• LED status indicator
• Operating Temperature – 0 to 65 deg C
• DC power supply support 12 to 56 volts
Usage

Mode A

DC Input 1,2- 3,6+

Mode B

DC Input 4,5+ 7,8-

Note
802.3at (passive)
56v
56v
for up-to 60watt
802.3af (passive)
48v
48v / none
loadbalance or redundancy
802.3af (passive) + 24v
48 / 56v
24v
passive & 802.3af at the same time
Passive 24v
none
24v
Mikrotik, UBNT, Tranzeo, Openmesh
 
Seluruh harga yang tercantum di atas belum termasuk PPN 11% dan biaya pengiriman.
Jika Anda membutuhkan faktur pajak untuk transaksi ini, pastikanlah bahwa Anda telah menginformasikan Nama Perusahaan dan NPWP dengan benar kepada kami sebelum melakukan order.